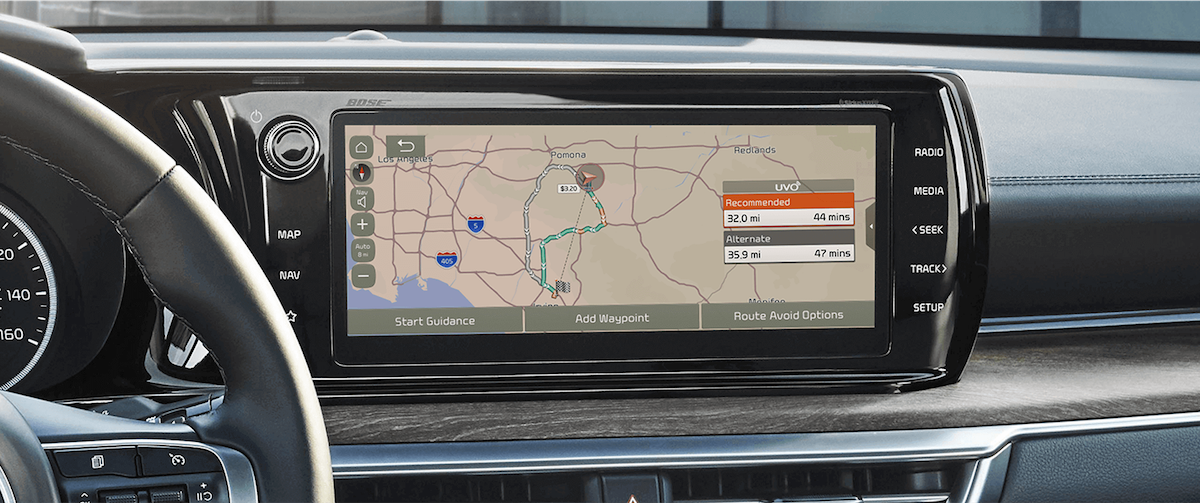 What is Kia UVO? Although UVO has gone through numerous changes over the years, the name is most commonly used to refer to your Kia vehicle's infotainment system and smartphone-interfacing technology. 
Browse Kia Inventory More About Kia Features
---
What Does Kia UVO Do?
Today, our new Kia vehicles almost always include a touchscreen control center as standard, and most offer either Kia UVO eServices or Kia UVO link as an upgrade. So, what is Kia UVO? With either package, you'll be able to download the Kia UVO app and access unique features and capabilities, even when you're away from the wheel! 
Through Kia UVO and your 7 or 8-inch touchscreen, you'll have the power to control almost all of the features in your vehicle. Bluetooth®, Apple CarPlay™, and Android Auto™ come standard in many models, so it's easy to learn how to pair your phone with Kia UVO and enjoy your favorite music on the road. You can also use your touchscreen interface to access a range of other simple and easy-to-use apps, designed for use on the go.
Kia UVO eServices
The real fun begins when you know how to pair your phone with the Kia UVO app. If your vehicle is offered with Kia UVO eServices, you'll be able to use your preferred device to access: 
My Points-of-Interest - Save locations for future navigation, plan stops during road trips, and mark your favorite destinations. 
My Car Zone - Set alert thresholds for each person who drives your Kia. If your vehicle is driven at times, speeds, or in locations you designate, you'll get an alert on your Kia UVO app.
Parking Minder - Never lose your Kia in a parking garage again when you can navigate to it through your Kia UVO app. 
911 Connect - If your airbags deploy, Kia UVO will automatically contact 911. 
These features make it easy to navigate through Schaumburg, Bartlett, or some other unfamiliar area. 
Kia UVO link
What about Kia UVO link? The newest iteration of Kia UVO is available with several different subscription packages. How much does this Kia UVO service cost? With many properly-equipped new Kia vehicles, the convenience is complimentary for the first five years. If you're wondering, does Kia UVO have remote start, the answer is yes! Kia UVO remote start is available in select Kia models through Kia UVO link. Here's what you can do with each UVO link subscription, using the smartphone-based Kia UVO app or your vehicle's built-in touchscreen:
Kia UVO link Lite
MyTrips
911 Connect
Maintenance Alert
Kia UVO Remote Start (in Select Models)
Kia UVO link Care
All UVO link Lite features
Roadside Assistance
Vehicle Alarm Alert
Curfew Alert
Kia UVO link Plus
All UVO link Lite and UVO link Care features
Remote Climate Control
Remote Lock/Unlock
Find My Car
Kia UVO link Ultimate
All UVO link Lite, UVO link Care, and UVO link Plus features
My POIs
Home-to-car for Alexa and Google
How to Pair Your Phone to Kia UVO
Regardless of which Kia UVO service you get, you'll need to know how to pair your phone to Kia UVO. It's a simple process: 
Make sure Bluetooth is turned on in your smartphone's settings
Press the "i" key on your Kia vehicle
Select "Setup" on the touchscreen display
Select "Phone" on the touchscreen display
Select "Bluetooth Connection" on the touchscreen display
Select "Add New" on the touchscreen display
On your smartphone, select the name of your vehicle from the Bluetooth menu (it will likely be the model name of your Kia)
If prompted, enter the passkey displayed on your touchscreen display into your phone
If prompted, choose to make your phone the Primary Phone so that it automatically pairs with your Kia when the vehicle is turned on
And then you should be ready to go, knowing how to pair your phone to Kia UVO!
What Does Kia UVO Cost?
As for what does Kia UVO cost, there are four tiers that include different levels of service:
Lite - Complimentary for 5 Years
My trips
911 Connect
Maintenance Alert
Remote Charge
And more! 
Care - $9.99 monthly / $99 annually
Lite Package and:
Curfew Alert
Vehicle Alarm Alert
Roadside Assistance 
And more! 
Plus - $22.50 monthly / $225 annually
Care Package and: 
Remote Lock/Unlock
Remote Climate
Find My Car
And more!
Ultimate - $29.79 monthly / $297 annually
Plus Package and:
Home-to-Car (Alexa)
Home-to-Car (Google)
My POIs
And more!
Explore Kia UVO Features with Napleton's Elgin Kia!
Whether you're looking for a new Kia UVO-enabled vehicle, or you just need help with the latest Kia UVO update, the service and sales teams at Napleton's Elgin Kia have you covered! Contact us today or schedule service for Kia UVO troubleshooting.
Make an Inquiry